Dr Madhura Swaminathan, daughter of MS Swaminathan, Indian geneticist and international administrator visited Sri Prakash Synergy school on 12- 07- 2017. Dr Madhura Swaminathan, Chairs M S Swaminathan Research Foundation and has been selected to serve as an expert on the group writing a report on 'Multi-stakeholder Partnerships to Finance and Improve Food Security and Nutrition in the Framework of the 2030 Agenda'.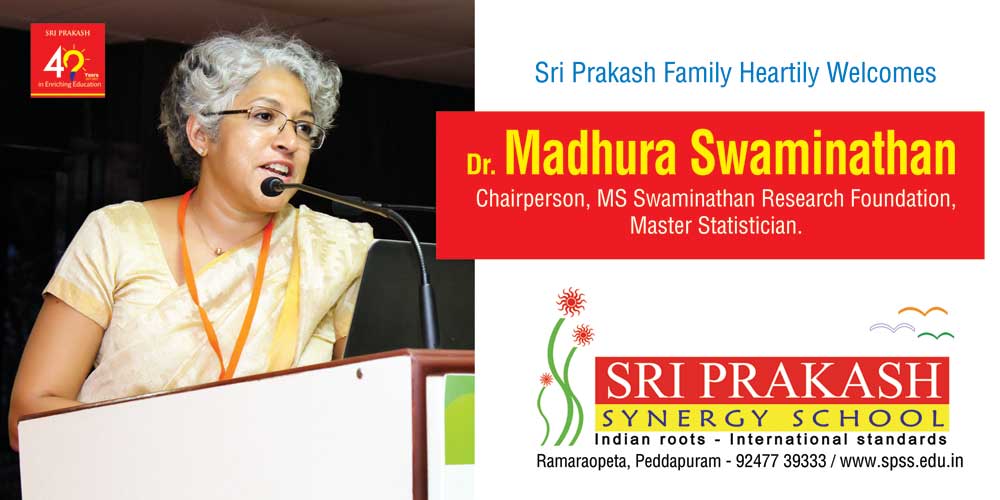 Dr Madhura is among five international experts selected out of 78 global candidates. Dr Madhura feels it as an opportunity to contribute to global policy to help food and nutrition security of millions of people across the world. She is eager to provide the perspectives from India and the Asian region." Dr Madhura, is also Professor and Head of Economic Analysis Unit of Indian Statistical Institute, Bangalore. As a development economist from the oxford university, she has authored eight books including one on food policy in India. She has served on Government of India's High Level Committee on Long Term Grain Policy, the UN Committee on Development Policy and on the Board of International Potato Centre in Lima.
Dr Madhura spoke extensively on the topic 'Food security and Nutrition' and related topics of Economics. Later she interacted with synergites and described Andhra Pradesh as rice basket of the country. In the interactive session, she patiently clarified the doubts of the students. She appreciated synergites' enthusiasm and their knowledge in Economics and congratulated the students and management for the same. She asked the students to continue their interest in Economics. At the end of the programme Director Sri. Ch. Vijay Prakash presented the mementos to the guests Dr. Madhura and Peddireddy Sandeep (from IIM, KolKotta)
Director Ch. Sri. Vijay Prakash, Senior Principal Sri M.V.V.S. Murthy, Dean Smt. B. Rajeswari, Prof. Santhanam, teachers and students were present on the occasion.