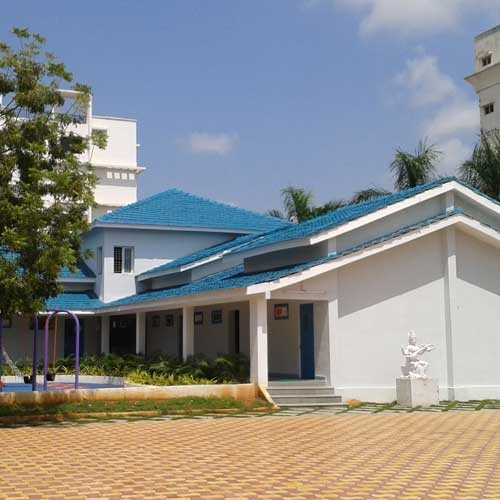 The school building is painted Blue and White - The colour scheme of blue and white is in consonance with the vision of the institution. The colour blue exhibits/represents trust, reliability, honesty and tranquillity. The colour blue reduces stress and inspires higher ideals. White is the colour that represents the three P's----  purity, peace and protection. White is totally reflective, awakening openness, growth and creativityand  it amplifies everything in its way. The connotations of the colours are replicated in the functioning of the school. This extended family of synergites aims at filling the clean slate of the children's lives with positive energy that will help them to carve their future. The exterior exudes warmth and the same is also exhibited in the cool AC rooms.
This knowledge centre can rightfully boast of imparting knowledge catering to the modern requirements and also firmly rooted in Indian values and culture. The curriculum is akin to the IGCS pattern. The school delivers a system of education that not only imparts knowledge, but also mitigates drudgery. The activity based teaching methodology is a tool that is sure to nurture talent, liberate children from inhibitions and strengthen their strengths. The goal of moulding creative independent individuals will be targeted by the various activities offered in the school.
The art and craft classes are linked to the study matter. This will benefit by sharpening the kinaesthetic, intelligent and artistic skills of the children.  
A child craves for recognition and encouragement. Our classes with maximum strength of 20 students are very conducive for the dedicated faculty to handle their wards with optimum care.
The support staff is well equipped with the urge to keep the pristine surroundings clean and also interact with the children with love and affection.
The school is also aware of the need to develop the physical quotient of the children and hence has included gymnastics and skating in the curriculum. All the children are imparted the two aforesaid activities under able  masters.
In addition to the academic classes, the children are trained to listen to story book reading session daily.  This is done with a view to develop in them a reading habit and also sharpen their listening, speaking and communication skills.
The digi classes and  well equipped computer lab will expose them to the new developments in the subjects learnt by them.
The school envisages developing children with appreciation for beauty of Nature, enjoying arts , crafts  and music  .This  is our humble effort to contribute to the society a class of social consciousness   good human beings.